For the modern Pub and Bar, a capable sound system is an essential ingredient for creating the right atmosphere.
Audio Installations experience in designing and installing sound systems into pubs, bars and entertainment venues allows us to know what's right for these types of buildings.
We can work to your budget and requirements to help design and layout the ideal audiovisual system for your establishment.
We will ensure that your installation is easy to control, with features like selectable zones, jukebox and television audio through the main system, and discrete speaker placements that will blend into their surroundings.
AUDIO SYSTEMS FOR PUBS
A pub sound system needs to be able to handle continued daily use, at a variety of volume levels depending on what's happening that day.
The system must offer background music that's controllable by area (in a larger pub), and can be fed from several sources of audio such as a digital jukebox, FM or DAB radio, and direct playback from USB drives or a smartphone.
The pubs televisions need to connect into the sound system for sports events, and must be capable of providing enough volume to be heard clearly over the ambient noise of a full pub.
Bringing your pub right up to date, features such as Bluetooth connectivity allow quick hookup of phones or tablets to the main audio system, allowing easy playback of playlists and music from streaming services.
AUDIO ZONES FOR PUBS
The sound system can be split into areas or zones for complete control over what's playing. With many larger pubs offering function areas, snooker or pool table areas, and dining areas, it's a convenience to have fully independent control over the audio.
On match days for example, you can have the TVs audio through the main system in the bar and lounge, whilst the dining area has background music playing, and your pool tables are listening to the jukebox.
A zone controlled system offers you superb flexibility, allowing each area its own volume control and choice of audio source, whilst being part of a single system still, so it can still play a single feed throughout the premises when required.
SPEAKERS FOR PUBS
Pubs will often use a mixture of speakers for an installation to maximise both sound quality and coverage.
Ceiling speakers can be ideal for lounge areas and dining areas where only background music will ever be needed. They offer great sound quality whilst being extremely cost effective, and their slimline fitment helps them be nearly invisible.
For bar areas and main rooms, something with a bit more gusto is required. Wall speakers such as the superb Amate B6 series really deliver the sound performance you would expect from a much larger PA system, whilst remaining small enough to go unnoticed.
With thoughtful placement, just a few professional wall mount speakers can really transform the sound in quite a large area, and will provide the sound levels and quality that you've always desired for your events.
You can also have auxiliary inputs to the system, say in a stage area, should your friday night DJ or performer need to go through the main room speakers rather than their own separate PA, and that lets you stay in control of the volume levels.
SOUND SYSTEMS FOR BARS
As with the main room of a pub, a bar needs to have a really capable sound system in order to provide the pumping music that especially younger customers are drawn to.
Bars have taken the place of traditional nightclubs in many respects, with many favouring the more relaxed atmosphere they provide.
Bar systems need to perform with loud dance music on the weekends, and be just as capable with the football or a bit of background music on a quiet afternoon. Versatility is extremely important.
A multi-zoned audio system will allow the most flexibility, as it provides complete control over what's playing in each area, and how loud it is, whilst offering the venue a great user friendly interface for all their entertainment.
TVs and SKY feeds can feed through the speakers on match day, while the evenings can pump out the latest tunes through any number of connected audio sources, from Bluetooth streams to USB drives or even a classic CD player.
Live DJs can be fed through the main system, and dedicated dancefloor areas can feature much larger speaker systems for that real club experience.
Terraces and gardens can be included easily into a zoned system too, with a range of all weather speakers designed for permanent installation meaning your outdoor space is just an extension of what's happening inside.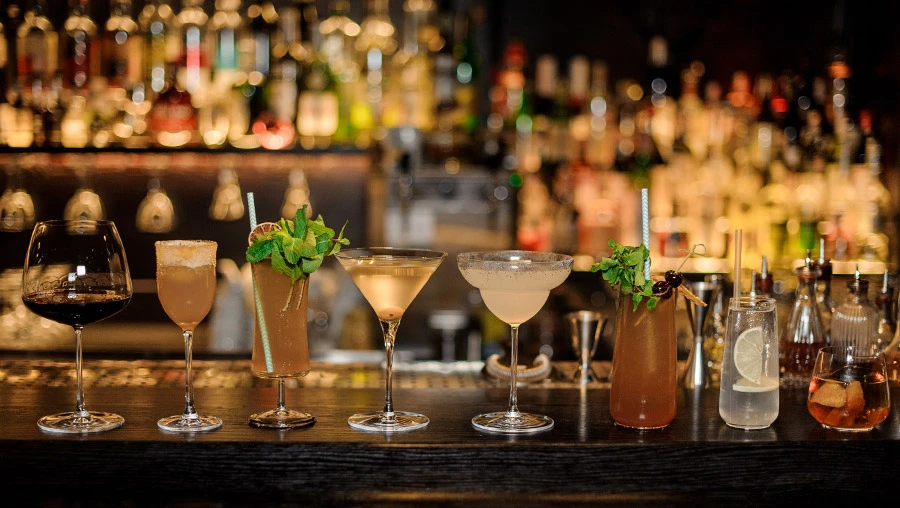 SPEAKERS FOR BARS
With modern bars favouring the latest dance music most evenings, the choice of speakers is critical to ensure the system can provide the sound quality and volume needed.
Bars will often include multiple TVs or display screens, showing everything from music videos to the big sporting events, which all have very different sound requirements.
With the emphasis on good power handling and crystal clear sound quality from such a variety of sources, a more PA speaker orientated system can often be the best choice for this type of venue.
Wall speakers for the main areas, bars and terraces allow a fantastic level of performance from surprisingly discrete sized units, especially with high power offerings from companies like Amate Audio and Moose Sound that are designed specifically for such a task.
If the bar has a regular DJ and dance floor that requires near nightclub performance on a regular basis, a more substantial PA speaker system must be considered.
This can be anything from a simple set of active 15" speakers, to a much larger active or passive installation system including a dedicated subwoofer.
SOUND SYSTEM INSTALLATION FOR PUBS & BARS
The Audio Installations team are specialists in speaker system design, and can advise on the equipment and that's required for your specific venues needs.
We look at functionality and practicality of a system. Who's going to be operating it, and if it's to be continuous daily use or only special events. Will it be all installed at one time, or will the system need expansion capabilities in the future.
Working closely with both your performance desire and available budget, we can find the best solution for you to ensure an audio system that exceeds expectations.
For band and live music PA systems, check out our sister website ElectroMarket
---
Frequently Asked Questions
Can I use a pub speaker system for live bands?
Generally, no. Pub sound systems are built with background music and public address in mind, so you would be much better to go for large PA speakers with subwoofers if you will be having band performances in your pub. That being said, you could use a wall-mounted pub PA system for vocal-only performances, but it is not recommended.
How do I choose a sound system for my pub?
The pub sound system that you should choose will depend on the size of your pub and what you want to achieve with it. For example, if you only need some low-level background music; ceiling speakers would work for you. Alternatively, a wall-mounted pub PA system would be the better option if you required a higher level of sound.
What speakers are used in pubs?
A good sound system is essential for creating atmosphere in a pub, and often a mix of speakers are used to maximise coverage. Ceiling speakers are ideal for background music in dining areas, providing a subtle finish and great sound quality. For main rooms, where higher volume is needed, wall speakers such as the compact Amate B6 series provide excellent-quality audio. While weatherproof rated speakers can be permanently installed in outdoor areas such as terraces.
What is the best sound system for a pub?
The best sound system for your pub will depend on the venue size and your requirements. A pub system needs to handle daily use at variable volume levels to suit different events. We would recommend a multi-zone system for larger pubs, enabling each zone to have its own volume control and audio source, though a single feed can still be played too. We can work to your budget and layout to help design the perfect system for your pub.
How much does a pub sound system cost?
The cost of a pub sound system varies significantly depending on the size of your venue and your needs. A small pub will require a simple amplifier with a few speakers, while a large venue with multiple areas and rooms would suit a more expensive multi-zone system. Please get in touch with our team at Audio Installations to discuss your requirements and to get an idea of cost.
How do you place speakers in a bar?
As a general rule of thumb, it is best to space either in-ceiling or wall-mounted speakers at least two metres apart from each other, depending on how close they are to the listening area. By doing this, you can ensure that the sound being reproduced by each speaker is filling the room effectively without any areas not getting the best sound.
Can I use Bluetooth on my pub speaker system?
The majority of pub speaker systems will come with a power amplifier for the speakers, which is likely to have a built-in Bluetooth receiver. By using Bluetooth, you are able to stream audio wirelessly from any app or website of your choice to play music through your pub sound system.
How do you set up a pub/bar sound system?
To set-up a pub sound system you first need to mount the ceiling/wall speakers. These will then connect to the provided mixer amplifier, unless they have an active design. Once connected, you can control the audio output and volume from the amplifier. Many systems will feature Bluetooth technology, FM radio and USB playback. Televisions can be connected to the sound system for sporting events, and live DJs can also be fed through the system.
Can pub sound systems connect to televisions?
Yes, it is easy to connect televisions to an audio input on the mixer amplifier provided with your pub sound system, using a suitable cable. A television can also be connected to an active speaker. Once connected the audio from the television will play through the connected speakers. You will be able to adjust the volume level to create the perfect atmosphere.